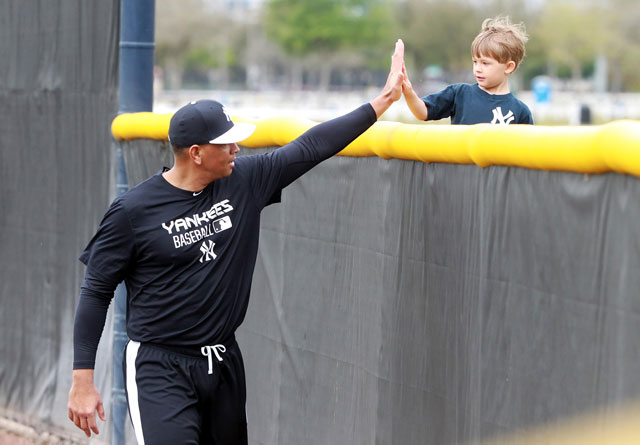 By Barry Millman
Alex Rodriguez's march up the career home run list has been accompanied by a lot of noise about marketing and milestones and other media-driven minutiae. But the fact is Alex has hit the fourth most home runs all-time.
It's done. Over. Finito. He's fourth. Get over it. Time for the next order of business.
All-Star balloting is underway, and the fact is if Alex doesn't win a spot in that game the Yankee fan base doesn't deserve a pennant this or any other year.
Not only was he the straw stirring the drink through those early horrific days opening the season, but he's raised all boats in the team's lineup ever since and been an essential factor in their march from worst to first..
Does anybody seriously believe the absence of gluten is the only thing fueling Tex's resurgence? Or that mustaches grant the growers special prowess at the plate?
[Full disclosure: The fact that Alex is fulfilling all my preseason projections for a Matsui-esque Godzilla-like season as a full-time DH is just a happy happenstance and in no way influences my objectivity in this analysis.]
Of course, the All-Star game isn't intended to recognize players who are crucial to their own teams' success. It's meant to bring together the best of the best across the league; and on that score Alex's numbers compare more than favorably to his fellow DHers around the league.
[Second disclosure: For those who prefer to see asterisks attached to Alex's stats, I've inserted a bunch here for them to enjoy. Have a ball!]
As of Saturday, May 9th, of the eight designated hitters with a minimum 100 plate appearances, Alex ranks:
*First in Slugging .546
*Third in OBP: .348
*First in OPS: .894

*First in HRs: 7
*First in extra base hits: 14
*2nd in RBI: 18
*First in walks: 16
*Second in Runs Scored: 16
*Second fewest GIDP: 2
*First in Isolated Power: .299
*First in at bats per HR ratio: 13.9
*First in secondary average: .464
So there you have it -- the case for All-Star Alex. It's legit. It's compelling. It's a Yankee that deserves everyone's vote no matter which team is your favorite.
For Yankee fans, it's time to ante up and give Alex the only bonus that really matters and one he's truly earned. Click on the MLB All-Star ballot here right now and vote for him with your head held high.
Time to #FORG1V3 and #BEL13VE.
You can email Barry Millman at nyyankeefanforever@ymail.com. Follow him on Twitter @nyyankeefanfore.